That's Michael Morpurgo, the author of some of the best known children's books and Barroux, an artist and illustrator and he's just known as Barroux!

It's my last event at the Edinburgh Book Festival and I'm here to hear about Michael Morpurgo's book "In The Mouth Of The Wolf". (Did you spot that homophone?)
It's based on the true story of Michael's Uncle Francis and Uncle Pieter and what happens to them in The Second World War.
(If you peer into the photos you can just about see him and Barroux is at the table – painting )
I'm looking forward to reading "In The Mouth Of The Wolf" and learning more about how Francis, a pacifist, ends up involved in the war.
My Great-Grandfather was an ambulance driver in WW2 with the Friends Ambulance Unit – This envelope came up for auction a couple of years ago, my mum thinks it once held a letter sent from York to Finland by my Great-Great Grandfather.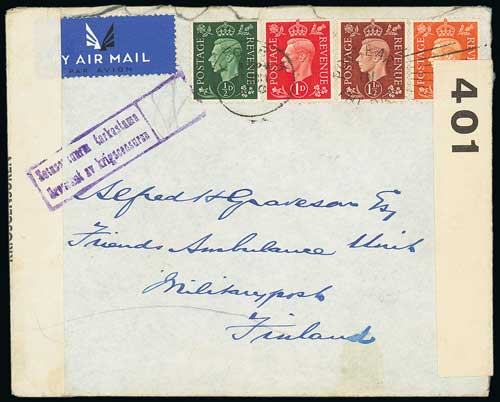 At The Book Signing
Michael Morpurgo was not signing books as he had an injured hand but he did have signed stickers to put in your book.
But Barroux was there…
During the talk Barroux had been recreating various illustrations from the book, along with the odd dolphin! Now he had brought his India Ink to the signing tent and just look at the awesome 'TABBY' he drew in my copy of "In The Mouth Of The Wolf".
The events I've been to this year have been brilliant!